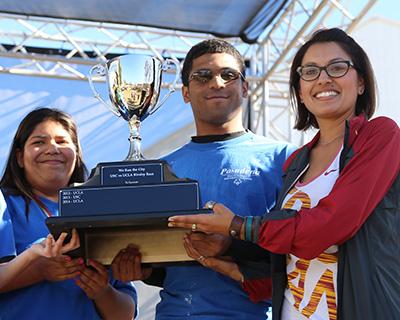 Once you have registered for We Run the City, it is time to raise money.
We have tools to help make your fundraising efforts easy and successful. Whether you solicit donations online or in person, we have materials to support you and help you win cool prizes.
For any other assistance, please contact Luke Farnell at lfarnell@sosc.org or 562.502.1038.
---
Customize Your Fundraising Page
Personalizing your fundraising page only takes 15 minutes, and it can greatly impact your fundraising efforts. Your page is a passionate, powerful, and persuasive tool that will help you become a fundraising superstar! To set up your page, you will first need to login to your fundraising headquarters using the login link at the top of this page.
Customize the text on your page. Why did you choose to fundraise for Special Olympics? Why should someone donate? Express your passion.


Customize your photo. Add a picture of you so your friends and family know they are on your page.

The best size for your personal or team page image is 300px wide by 400px high.



Send a link to your fundraising page to your friends, family, and colleagues. Include everyone you know. You will be amazed at who will support your cause. Customize your personal URL to make it easy to remember and share. Learn how to edit your Personal or Team Page!


Share your fundraising page on Facebook, Twitter, and other social media sites.